A switch to RE/MAX took place in Ottawa at the end of April 2016.
What happened?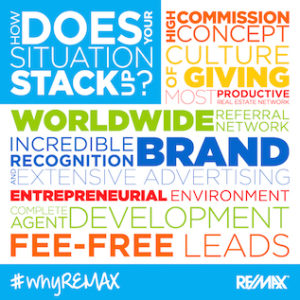 As reported in the Above Magazine's blog post, Canada's largest Keller Williams firm made the switch to RE/MAX. A two office firm made up of close to 300 agents joined the RE/MAX team on April 28.
The former Keller Williams team made a switch to RE/MAX Hallmark Realty Ltd in Ottawa.
RE/MAX Hallmark Realty Ltd is one of the largest brokerages in Canada. It had over 625 agents and 13 offices across Ottawa prior to the newest addition. Now, the brokerage comprises all 15 offices.
Meet the team that chose a switch to RE/MAX
Jeff and Margie Hooper, a husband-wife team opened the Keller Williams office as the brand's first Ontario franchise in 2001. The couple has 47 years of real estate experience between them. They will continue to lead the brokerage, and operate as "RE/MAX Hallmark Realty Group in Ottawa."
"The agents are going to see the value and the benefit of RE/MAX. This really is about them, we want them to improve their careers and their lives." Jeff Hooper.

"This is great for everyone involved because it's moving us forward in a very progressive way. Everybody knows RE/MAX." Margie Hooper
About RE/MAX Hallmark
One of the RE/MAX network's most successful, dynamic operations.
Based in Greater Toronto
Led by Ken McLachlan, Debra Bain and Steve Tabrizi,
Was the network's sixth largest multi-office operation before the merger
"This is an exciting step forward for us," says McLachlan, who along with Bain received the RE/MAX Distinguished Service Award in 2012. "With the help of Jeff and Margie, we expect to see continued growth and success in the Ottawa market."
What the agents are saying
Jason Pilon, the former Keller Williams brokerage's No. 1 Team Leader, sees an abundance of competitive advantages in the move. One is that RE/MAX is far more visible than Keller Williams in Ottawa, in Ontario and in the entire country.
"This means opportunity. Market share. Networking. More training. More support. Building relationships across Canada. I think it's all positive, RE/MAX is very well known here, and it's going to be nice to be part of that." Jason Pilon
The power of the RE/MAX brand was one of many reasons Margie Hooper felt the time was right for a change. A switch to RE/MAX can open doors for you as an agent or as a brokerage. Set up a meeting with one of our managing brokers today to learn more. We have offices across the Lower Mainland.